StrasbourgDuring the 4 weeks of Advent, Christmas Street Markets are held in town squares throughout parts of Europe. These markets originated from the late Middle Ages in the German speaking parts of Europe and many parts of the former Holy Roman Empire that includes many eastern regions of France and Switzerland.
The Vienna "December market" was a kind of forerunner of the Christmas market and dates back to 1294.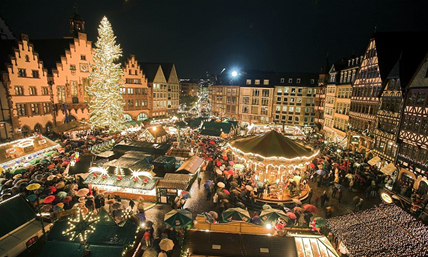 Frankfurt
Prague
The Christmas markets of today sells food, drink, and seasonal items from open air stalls, accompanied by traditional singing and dancing.
Some of the traditional Christmas items are the: carved nutcrackers, hand crafted nativity sets, toasted or candied nuts, gingerbread cookies, hot mulled wine (to warm up in the cold temperatures), handmade toys, books, Christmas tree decorations…..etc….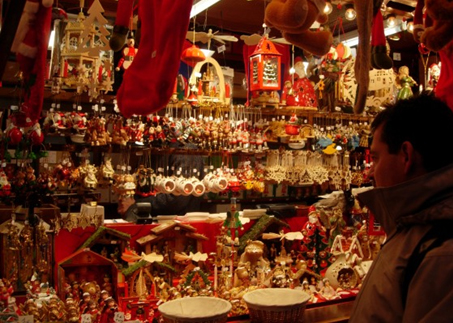 The 2014 Christmas decorations at Trilogy Concept Stores are hand picked straight from Belgium!
Some of our Christmas items are the:
Devine Snow Christmas trees.
Beautifully intricate handcrafted glass tree decorations.
Antique look gold branches and wreaths. Great for table decorations!!
Below are some of our exclusive Christmas items all available at Trilogy Concept Stores :
As usual these gorgeous pieces are best seen in store.
So take time to visit and enjoy the Christmas table settings and decorations with a complimentary cup of coffee to your choice!!
MULLED WINE RECIPE
(Recipe By: goodtoknowrecipes.co.uk)
Ingredients
75cl bottle red wine
300ml (1/2pt) water
300 ml (1/2 pint) orange juice
3 tbs caster sugar
Mulled wine spice sachet
150 ml (1/4pt) brandy
1 orange, sliced
1 apple
Method
Place the wine, water, orange juice, sugar and Mulled Wine Spice Sachet in a large saucepan.
Heat to just below boiling point and hold this temperature for 10 minutes, stirring occasionally.
Remove the sachet. Stir in the brandy and fruit
Enjoy!
And Happy Holidays!
See you next time.
Dorien Copejans